Transport to Sapa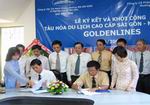 Sa Pa is 36km away from Lao Cai by road, the mountain road is in excellent condition. There are lots of buses and shared and private taxis, especially outside the railway station at arrival time of trains from Hanoi. Allow 2$ for the bus ride and 5$ for a private taxi.

You can drive from Hanoi to Lao Cai (350km, 6-7h-hour-drive) or take the train. The schedules below are for information only, please check them and check the tariffs on the internet site of Vietnam railways : http://www.vr.com.vn

Hanoi : Departure -> 06:15 / 21:30 / 22:00 / 22:10 - Lao Cai : Departure -> 10:20 / 19:00 / 20:50 / 21:15
Lao Cai : Arrival -> 15:30 / 05:00 / 06:00 / 07:20 - Hanoi : Arrival -> 19:25 / 04:00 / 04:20 / 05:00

The night train offers four-berth compartments, very basic, but with air-conditioning, and a few better equipped carriages for tourists (Ratraco group). The 22:00 train from Hanoi and the 21:15 train from Lao Cai include the « Tulico express » carriages, with two or four-berth comfortable compartments. In the 21:30 train from Hanoi and the 20:50 train from Lao Cai, you will find the luxury carriages of the «Victoria express», accessible only to patrons of the Victoria Sa Pa hotel.

At the Sa Pa and Hanoi hotels and tourist agencies bearing the « Fan Xi Pan » label, you can book railway tickets, confirm flights, rent a motorbike or a car (minibus, jeep, land Cruiser).