:
Cat Cat Road, Cat cat village
Cat Cat Guesthouse is located near Ham Rong in Sapa town. Hotel has accommodation to suit all budgets. Double, twin and single rooms with private bathroom, hot water, telephone and television. Mosquito nets for use during the rainy season, and 'real' fires for those cold winter nights.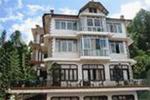 Queen Hotel locates in the center of Sapa town. It takes you only 2 minutes to walk from the hotel to Sapa market and the old Church.
From here, you can watch the whole sight of Sapa: Muong Hoa Valley of beautiful white clouds and Hoang Lien Son Mountain range with its magnificent Fansipan Peak.


:
Thac Bac Road, Sapa town
Darling Hotel was opened in 1996 and built a luxury building in 2000. Built as a traditional and special interior designs, combined of modern and Northwester rural Vietnamese architecture, with private fireplace in each room. Darling Hotel overhangs the village, blending perfectly with the natural surroundings.
The Auberge Hotel, Sa Pa, Vietnam is in the center of town. This French-style hotel and was one of the first private properties in this mountain resort. The hotel, which has English and French speaking professional staff, is famous for its cozy restaurant, which serves a wide range of food and drink. The Aubege Hotel comprises 18 well-equipped rooms ranging from economy to deluxe with beautiful views of Fansi Pan Mountain. There is also a Bonsai and exotic flower garden. For your reservation at the Auberge Hotel.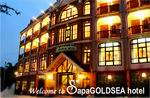 Sapa Goldsea Hotel lies upon the mountain, looking over to the Muong Hoa valley, only 5 minutes away from Center Market and the Church which was built in the time of the French's ruling and the Town Center. In accordance with its spectacular charming space, Sapa Golden Hotel is designed in typical style with 26 rooms, Restaurant, Open air sky, Library. Besides, our good staff surely satisfy visitors with special services.