Handicraft in Sapa
Thanks to the wide diversity of wood species and to the carpenters and joiners' know-how, the houses, furniture and all the wooden objects are still made locally. One of the most famous wood species in the Lao Cai area is peumou (Fokienia Hodginsii), a species of slow-growing cypress whose wood is rot-proof. Chinese buyers have been paying a heavy price for it for over a century.
Rattan and bamboo are the raw materials used for basketwork. Each ethnic group and each area has its own techniques and own patterns. The Tays' are square-shaped, often decorated with floral patterns, while the Dao's (Mien) and the Lao's are raised designs with colour strokes.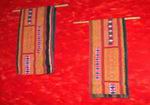 The Tay grow cotton, spin it, weave it, and dye it to make the traditional blankets for the wedding dowries.