Hanoi photos show past, future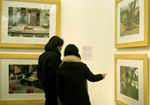 Two photographers from very different cultures are sharing their visions of Hanoi'sJanus faces - history and development - at a new exhibition which opened on Tuesday in Hanoi.

The show Ha Noi - Hom Qua va Hom Nay (Ha Noi - Yesterday and Today) includes 38 photos by Vietnamese photographer Tran Quoc Khanh and Lawrence Dattilio from the US. Khanh's photos are in black and white and Dattilio's in colour. All were taken over the past year.

The show captures images of the past alongside driving modernisation in the capital, one visitor, a foreign student at the National University says.

"The pace of change going on in Hanoi is clear in these photos," he says.

Along with different styles and perspectives, the two artists choose different scenes to express how they feel about the changing cityscape.

In Dattilio's work, the figures of women are a reiterated theme. In one, Lung Cong (Bent Back) an old woman is pictured as she walks down the street.

"Maybe she is a symbol of Hanoi, a city that is very old but confident of its future," he says.

In another photo, Ao Giac (Vision), Dattilio zooms in on an advertisement with a beautiful young woman, plastered to a wall behind an old tree.

"I looked into the branches of the tree only to find a woman from an advert staring back at me. No matter where we look, life is very interesting."

In photos like Pho Co Co Nha Cao (Big Buildings Are Next) Khanh focuses on one of the city's many construction sites near Hanoi's Old Square and in Gia Co Thoi Gian (A Lucky Culture), he shows painters in a factory touching up temple statues and water puppets.

"We are very lucky because Hanoi has a very colourful culture, language and religion. The city has grown naturally, giving up what is not good and keeping the culture that is good," Khanh says.

The exhibition is a good reminder that history has to have a place in development, one visitor to the show, Nguyen Do Quyen, says.

"As a primary school teacher I know how important it is for children to learn about history. I'm going to tell my students about this show," she says.

Khanh is a well-known figure in Vietnam's photography scene, having racked up a number of awards including one from the Federation of International Art Photography in Italy and the Viet Nam Artistic Photographers Association, both for his black and white photos. The artist has also exhibited in Austria and the US.

Dattilio has exhibited across the world, including France, Italy and Japan.

The exhibition is sponsored by the Underwood Foundation from the US and Vietnam's Ford Foundation. It opens daily from 8am to 5pm at the Viet Nam Fine Arts Museum, 66 Nguyen Thai Hoc Street, Hanoi, and will wrap up next Friday.