Mekong Delta Festival receives 300,000 visitors in first week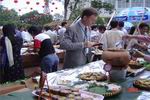 Almost 300,000 people visited Can Tho in the opening week of the 2008 Mekong-Can Tho National Tourism Year that began last Thursday.
Locals and foreigners flooded into the Mekong Delta city for the Ninh Kieu, Street and Food festivals and other activities, said Dinh Viet Thanh, director of the Can Tho Tourism Department.

Numerous other activities will be staged in the region's cities and provinces throughout the year, including a Tourism and Culture Week on Phu Quoc Island, the Nghinh Ong and Oc Om Bok Festival, the sports and cultural festival of the Khmer people who live in the delta.

With the subtitle 'Mekong Delta's Waterways and Countryside', the Mekong-Can Tho National Tourism Year will last until the end of 2008 and feature more than 50 diverse events, giving the delta region a golden opportunity to showcase its tourism and economic potential, history, customs, and traditional festivals.